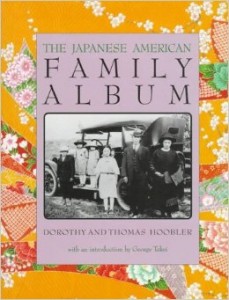 The Japanese American Family Album
1996, Oxford University Press
Excerpt from The Japanese American Family Album:
Quite often, young Japanese men would emigrate to Hawaii or the mainland United States and, after they began earning enough to support a family, employ a marriage broker to find them a wife back home. The prospective bride and groom would excange photographs before the arranged marriage was settled. For that reason, the newly arrived young women were called picture brides. One such was Tatsuyo Hazama, who came to Hawaii with a group of other picture brides in 1919, when she was 18.
"As we docked I looked down and recognized my husband from the photograph; but we were not allowed to meet or talk together for about a week. We were taken straight to the immigration station for another inspection. We were all afraid of the inspector who was Japanese, for he talked loudly, scolded everyone, and ordered us around….
"When the day finally came for us to meet our husbands, we excitedly helped to dress each other in a montsuki, special kimono with a crest, and a fancy sash called a maruobi. Outside the immigration station, our husbands waited eagerly for a glimpse of us. We were nervous and shy. I thought my husband was tall and handsome. We rode in a two horse carriage to Onomichiya Hotel….
"Two days later, we went by boat to Lihue, Kaua'i, to live on the plantation, We were already married [by proxy] in Japan, but we did have a party. The people in the camp prepared the food for the celebration which was held in the social hall."
Carter G. Woodson Award for National Council on the Social Studies
Selected for the New York Public Library's Books for the Teen-Age